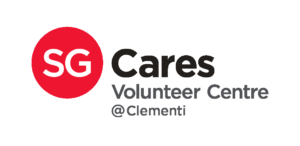 As of 1 April 2021, Foundation of Rotary Clubs (Singapore) Ltd via its Foundation of Rotary Clubs Singapore Family Service Centre (FRCS FSC) has been appointed by the SG Cares Office of Ministry of Culture, Community & Youth (MCCY) to operate the Volunteer Centre (VC) for Clementi town.
SG Cares is a national movement, championed by the SG Cares Office and co-led by the National Volunteer and Philanthropy Centre and the National Council of Social Service, to build a more caring and inclusive country. The movement invites all Singaporeans and people who live in Singapore to put values into action through active volunteerism, ground-up efforts and everyday acts of care. It also aims to build capability and share resources across various sectors and organisations to grow opportunities for volunteering.
A key initiative under the SG Cares movement is the appointment of community-based organisations such as FRCS FSC to be SG Cares Volunteer Centres (VCs) that help coordinate resources and volunteerism efforts at the town-level.
The SG Cares VCs are responsible for:
Building volunteer capacity;
Developing volunteer management capabilities; and
Fostering community partnerships to strengthen the towns' effectiveness in meeting the communities' needs
Individual
If you are looking for volunteering opportunities, please contact us by completing the Individual Volunteering Interest Form.
Group
If you are a group of volunteers as identified below, please contact us by completing the Group Volunteering Interest Form.
Corporate volunteers for company's Corporate Social Responsibility (CSR) programme;
Student volunteers for school's Value-In-Action (VIA) or Community Involvement Programme (CIP); or
Group of friends who are interested to volunteer.
Volunteer Request
For Social Service Agencies and community-based organizations looking for volunteers to support your programmes and services, please contact us by completing the Volunteer Request Form.
For queries, please contact the SG Cares VC@Clementi team at volunteer@frscfsc.sg
Visit Giving.sg to view the available volunteering opportunities under SG Cares VC@Clementi