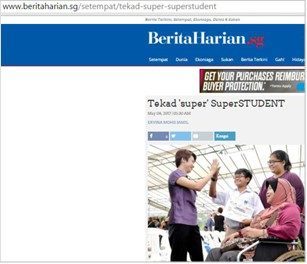 [Translated version from article in BH]
Headline: NEW INITIATIVE ACKNOWLEDGES "SUPER STUDENTS"
Title of Article (on 2nd page): SuperSTUDENT's "Super" Determination
Despite his small-built, Muhammad Firdaus Iqbal Abdul Karim has big dreams to excel in his studies and improve his family's situation.
Ever since his mother, Mdm Zubaidah, 50 years old, was diagnosed with rheumatoid and became wheelchair-bound two years ago, 14-year-old Muhammad Firdaus often helps his older sister, Nurul Mardatillah, out with the household chores, including cooking for the family.
Their father, who is the sole breadwinner, works as a security officer and earns $1,300 monthly.
Though the family faces financial difficulties, Muhammad Firdaus who is a Secondary 2 student from Clementi Town Secondary School, always strives to achieve excellent academic results in school.
In fact, he was selected by Rotary Family Service Centre (FSC) to receive SuperSTUDENTS! Bursary Award, which was launched at the FSC's Family Day at West Coast Park last weekend.
This new initiative aims to recognise children from resilient families who performed well in their studies, have regular school attendance and good conduct n school, whilst coping with their families' difficult circumstances. A total of 28 students received the bursary award last Saturday. Primary school beneficiaries received a cheque of $300 each while secondary school beneficiaries received a cheque of $500 each.
Besides SuperSTUDENTS!, Rotary FSC also developed other initiatives to recognize, support and reward the efforts of students and their families in sustaining resilience during challenging times.
Mayor of South West District, Ms Low Yen Ling, who presented the bursary awards to deserving students said that such efforts can only take place with the support of sponsors, volunteers and community partners.
"We need the community to collaborate resources and capabilities so as to empower and build resilience in under-privileged children and families. The efforts of Rotary FSC alone is not enough. Just as "it takes a village to raise a child", we need everyone to play a role in weaving a strong net of support for those at risk", said Ms Low, who is also the Senior Parliamentary Secretary for Trade and Industry and Education.
For Firdaus who has received social assistance from other organisations, he plans to utilize the bursary for his educational needs and contribute part of it to help ease his family's financial burden.